Hams from Pune conducted a Antenna Tuning Workshop to celebrate the National Field Day on 8th June 2014. Here's a note from OM Udaya / VU2UPQ:
The HF antenna tuning workshop was conducted today June 8, 2014 to celebrate ARSI declared Field Day in the foreground of the QTH of VU2ASH/Ashok in the scenic lap of mother nature @ D.S.K. Vishva, Vadgaon Dhayari off Sihagad Road from 1500 HRS to about 1900HRS IST. The objective of the workshop is to help newcomers & refresh the skills of old timers to tuning basic HF antennas using an SWR meter. A dipole antenna was erected for 20m & 40m with a common feed & tuned 1:1 using a SWR meter. Participants were VU2ASH, his XYL Pratibha VU2AIE, VU2 MSB, VU2MUA, VU2VPR, SWL Amogh & VU2UPQ. This workshop doubled as a demo for the residents of the township some who were invited by VU2ASH & some who came out of curiosity, to get to know more about the Amateur/Ham Radio hobby. Stations worked were VU3TYG - Bangalore on 14210MZh @ 1215hrs Z VU2RDL- Kollam on 14210MZh @ 1230hrs Z VU2ASH, his XYL VU2AIE must be thanked for hosting the program, making the arrangements, for participating. & conducting the workshop. Beside them VU2MSB, VU2MUA, VU2VPR, SWL Amogh & VU2UPQ must also be thanked for participating in the workshop & for giving their valuable inputs to the audience. The photographs are attached. 73 Udaya Patil / vu2upq mobile no +91 9823026567 Radio: VU2UPQ - 145.5 MHz - 7.030 MHz
Residents who attended the workshop are OM Avinash Khadilkar, Om Sudhakar Korde, OM Prof. Subhash Rajwal and his son Swanand Rajwal, OM Amol Bhalerao. Here are some pics I took while setting up the station and Anttenas: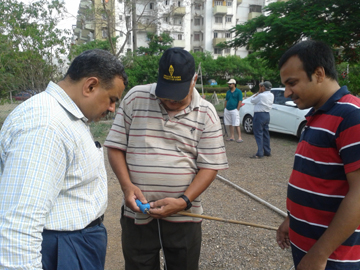 From Left - OM Uday (VU2UPQ), OM Ashok (VU2ASH), Me (SWL Amogh)
OM Milind (VU2MSB) helping setup the antenna.
Temporary 20 and 40mtr dipole setup and tuned on the field.
OM Milind (VU2MSB) hooking up Om Udaya's (VU2UPQ - Extreme left) Rig to the OM Srini's (VU2MUA - extreme Right) car battery.
Om Ashok (VU2ASH on the chair) and OM Milind (VU2MSB) operating the station.
from left - XYL of OM Ashok (VU2ASH), XYL (sitting) of OM Vilas (VU2VPR), OM Vilas (VU2VPR), OM Avinash Khadilkar.
From Left - OM Vilas (VU2VPR), Om Prof. Subhash Rajwal, OM Udaya (VU2UPQ), Om Srini (VU2MUA), OM Milind (VU2MSB), Om Ashok (VU2ASH - operating the station/Rig).